The Living Temple is always adding great new products to feed you body, head, and spirit.  Here are just a few of the new items we have added.
Glasstic – Healthy Glass, Safe Plastic Shell Protection
The Water Bottle the combines the Best of Both
Co-polyester BPA and Melamine free construction
3rd Party Tested
Unique innovative design protects from shattering glass
Easily transform the look with Glasstic Style Inserts
Each component is backed by our Unconditional Lifetime Guarantee
Weight : 1.10 LBS
Volume : 16oz (470ml)
Eco friendly
Double walled construction
Easy to clean – comes apart easily
TC Energy Design

Wine Carafe – Rubellum
The "Rubellum" wine carafe delights wine connoisseurs because of its curved design, derived from the golden rectangle. Decanting wine into the "Rubellum" alters its crystalline structure and preprocesses it organically.
Designed by Nature's Design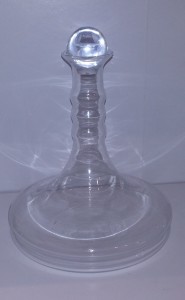 Water Pitcher – Cadus
With its finely contoured form, designed with the golden ratio in mind, the "Cadus", with a delicate shape attuned to the principles of the golden rectangle. The pitcher comes in two styles, either with the Flower of Life in white or with a bulge/indentation in the bottom of the pitcher where you can place precious stones. The sophisticated design enhances both the biological value and the flavor of any liquid it might contain.
Designed by Nature's Design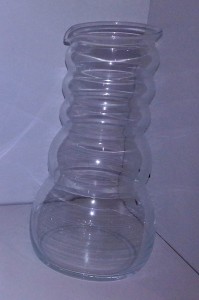 TC Cup Mythos
The design of the TC cup Mythos is often referred to as «Sacred Geometry,» because it is the geometry of life. Using the Mythos cup for drinking water and other liquids increases the biological value and improves flavor. It is is specifically designed for intensive use and safety, so it is suitable for children as well as commercial use.

TC Wine Glass
The TC wine glass has the most unique and energetically active design of any wine glass on the market today, and is suitable for all kinds of wine. You will be truly amazed at the effect this glass has on your favorite wines. It is available in both mouth-blown original pieces and machine-made models. Either way, it is an extraordinary piece to drink from, hold, and admire.
Bowls – Patera
The "Patera" bowls have a diameter of 14 cm and 23 cm. Its well-thought-out design, in keeping with the golden ratio, is conceived primarily for the preparation and enjoyment of a meal. The hand-blown glass is produced with meticulous craftsmanship.
Designed by Nature's Design

Energy Vitalizing Glass Carafes
The TC Energy Design carafes are a real breakthrough and represent a new and conscious way of natural water treatment. The vitalization process of normal tap water only takes a few minutes. Not only does it enhance the taste of water, but also, according to recognized medical experts, its biological value. This helps cleaning your body from toxic agents, which is not the case for untreated water.
These carafes are perfect masterpieces and suitable for daily use. Its stabilizing effect on water crystals is so strong that it usually lasts up to one week.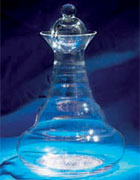 TC products also enhance the effect of tube-based vitalization systems already in place. The unique power of TC products improves the atmosphere of your room and adds to the biological quality of its surrounding space.
Made from lead-free glass and mouth-blown using traditional workmanship.These carafes should not be used for hot beverages, otherwise the glass might crack. You can also use it with juices and wines, which greatly enhances taste and quality.
Read more at tcenergydesign-sales.com.
TC Drinking Glasses
TC drinking glasses and tumblers vitalize any beverage and greatly enhance their taste. Just like in carafes, the vitalizing process in TC tumblers takes only three minutes! TC tumblers greatly improve the taste of normal tap water. This helps cleaning your body from toxic agents, which is not the case for untreated water.
You can choose between different versions of the Flower of Life symbol to be engraved into the bottom. The colored Flower of Life in HAPPY DSCHINNI is intended for children and adolescents.
TC tumblers should not be used for very hot beverages, otherwise the glass might crack and should be cleaned by hand.
Made from lead-free glass using traditional hand glassblowing workmanship.

TC Energy Plate
The TC energy plate is a hand-polished glass coaster with the Flower-of- Life symbol emblazoned into the glass in 24 c. gold. The intention of this piece is to energetically enhance and revitalize whatever is placed on it. The pleasing hexagonal design complements the golden Flower-of-Life symbol and aligns the energy plate with cyclical planetary movements.
The Flower-of-Life symbol has been known and used for millenia in different cultures of the world, including its use with food vitalization and storage. Now it is available in an easy-to-use form for household purposes.
This item is not intended for use with hot dishes.
Made with lead-free glass and hand-polished glass with burnt in symbol of 23.8 carats of gold
TC Vortex Glass Drinking Straw
The most natural and powerful kind of movement in nature is vortex flow. The spiral motion of tornados or soft waves of the ocean unleash the true power of vitalization. The TC drinking straw has been created on the basis of modern quantum physics as well as ancient insights into the natural flow of life energy.
Many physical constants known in biophysics make the fluid swirl around the center. This adventurous journey through the TC drinking straw gives the water more vitalizing energy. Enjoy the freshness and simplicity of drinking your favorite beverages from the TC drinking straw!
It is mouth-blown, using traditional techniques, and impresses due to the simplicity of its design and the complexity of natural energy flow. Made with borosilicate, heat-proof, lead-free glass.

---
Hand Painted Blessing & Abundance Stones from Red butterflies
Handcrafted stones are randomly packaged in groups of 3 and have been created to share abundance and positive energy. using the principle of abundance that giving to others and giving away brings more abundance into your life.  Give one stone to yourself first, to honor your self, then give away the others.
Read more at www.RedButterflies.net