Dear Fellow Essential Oil Lovers,
Welcome to our Regular Monthly email newsletter where we will be sharing the latest details on Live Events, Online Events and other doTERRA News. As of December 2017 I am hoping to use either the doTERRA email system or Mailchimp for this Monthly Newsletter, so I hope you will all still Receive it as I know some of the emails on my doTERRA website are different from this list and there should also be a simple way to Unsubscribe from these lists through their systems. There will also be some changes in the format of the email to fit the system that they use ! I hope you enjoy this new update and look forward to seeing you at some of our Upcoming Live Events !
Thanks,
Robin Jones
BOGO – This is a Great Opportunity to stock up on your favorite doTERRA Oils and Products with Amazing Deals. Also keep in mind you can have these Special Buy One Get One Free deals process as Loyalty Rewards Orders and as long as the PV on each order is $50 or more you will also Qualify for Rewards Points and Free shipping ! We hope you will all be able to take advantage of these great deals which will be emailed and posted online each day at Midnight MST.  
SPECIAL NOVEMBER EVENTS – We will be changing the Monthly Essential Oils classes as of January 2018 to Include 2 new classes on Detox, Cleanse and Restore and Natural Beauty and Healthy Skin and for November and December we will just be having our 2 Regular classes on Natural Health and Wellness and Stress and Balancing Emotions.
Sunday 26th November 6:00-7:30pm – Using Essential Oils for Natural Health and Wellness
Thursday 29th November 7:00-8:30pm – Using Essential Oils for Stress and Balancing Emotions
Please come and join us for these special events with the Owner and Founder of The Living Temple Robin Jones as he shares his Experience of over 20 Years of Health Research and for more details on the Classes please go to www.TheLivingTemple.com and click on the News and Events button for the last email newsletter. These special events are Free to attend but we do ask that you please RSVP as spaces are limited.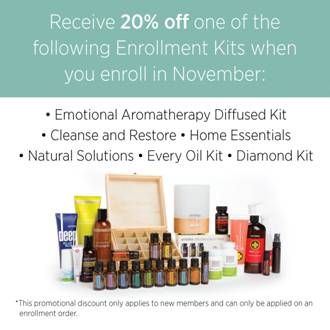 GREAT NOVEMBER PROMO – This is a really Great Promotion if you have been thinking about Sharing the amazing doTERRA Products and Essential Oils as it is a great Incentive for people to get a Membership. Each new Wellness Advocate or Wholesale Customer that signs up between November 1st – 30th can get an Extra 20% Off any one of the above Enrollment Kits. Please share this Special Promo and Invite people to our November Essential Oils classes to learn more !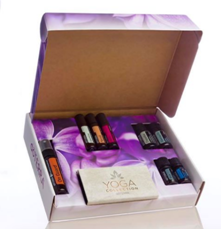 NEW DOTERRA ESSENTIAL OILS – It was very exciting to see all the amazing New Essential Oils that were released at the Annual Convention this September and if you are curious about any of them or would like to smell them before ordering please come and visit The Living Temple as we have Open Displays of all of them for you to check out, including the Rose, Jasmine and Neroli. Please call first to make sure Robin has not taken some of them with him for a class or event ! 714-891-5117

L
ove Your Skin !
Your skin is your body's
largest organ.
Show it some
love
this season and learn how doTERRA can help keep your skin looking healthy, youthful, and glowing.
This
special presentation will be
Archived
and
Available
on the doTERRA website by
December
in case you missed out on the
Live
webinar earlier this month.
 
Just wanted to share a couple of Links to some Great Articles recently posted on the Benefits of Essential Oils, Hope you Enjoy !
https://www.doterra.com/US/en/blog/spotlight/rose/touch
https://www.doterra.com/US/en/blog/product-spotlight-neroli-touch. Â 
NEW BUSINESS HOTLINE – This is A Great New Addition to Help anyone interested in doing doTERRA as a Business to have their Questions answered regarding aspects of the Compensation Plan, Signing People up etc and is good for all members from the level of Manager to Premier. The number you can now call is 801-370-2140 so please make the most of this great New Service !