Welcome to our Regular Monthly email newsletter where we will be sharing the latest details on Live Events, Online Events and other doTERRA News.  I hope you enjoy this new update and look forward to seeing you at some of our Upcoming Live Events ! 
SPECIAL OCTOBER EVENTS – We have now changed the Monthly Essential Oils classes to a new format which we hope you will enjoy and look forward to seeing you at some of the New Classes and please bring Guests as well. Instead of two of each of the classes on Health and Wellness and Stress and Emotions we now have just one of each plus 2 totally new classes where we will be sharing and talking about different oils and information on health in general.
Thursday 12th October 6:45-8:30pm – Using Essential Oils for Addictions, and the Digestion / Emotion Connection
Thursday 19th October 6:45-8:30pm – Using Essential Oils for Love, Romance and Sensuality
Sunday 22nd October 5:45-7:30pm – Using Essential Oils for Natural Health and Wellness
Thursday 26th October 6:45-8:30pm – Using Essential Oils for Stress and Balancing Emotions
Please come and join us for these special events with the Owner and Founder of The Living Temple Robin Jones as he shares his Experience of over 20 Years of Health Research and for more details on the Classes please go to www.TheLivingTemple.com and click on the News and Events button for the last email newsletter. These special events are Free to attend but we do ask that you please RSVP as spaces are limited.  
  
GREAT OCTOBER PROMO – This is one of the best promotions doTERRA has done this year and I hope you are all able to take advantage of it. For every order that you place as either an Existing Wholesale Member or as a New Member that has $200 PV or more between October 1st and 31st you will get FREE 15ml bottles of Serenity, Balance and Citrus Bliss blends with a $87 retail value ! Plus you can do up to 4 orders with $200 PV per account and get up to 4 Free sets of Promotion Oils and if you have them all process as Loyalty Rewards orders you will also get your Rebate Points on all the orders as well.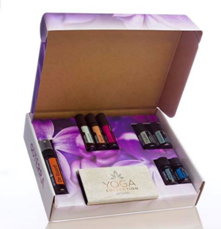 NEW DOTERRA ESSENTIAL OILS – It was very exciting to see all the amazing New Essential Oils that were released at the Annual Convention this September and if you are curious about any of them or would like to smell them before ordering please come and visit The Living Temple as we have Open Displays of all of them for you to check out, including the Rose, Jasmine and Neroli. Please call first to make sure Robin has not taken some of them with him for a class or event ! 714-891-5117
 

Immune & Respiratory Health
It's the time of the year when environmental threats come knocking! Learn how to boost your immunity, keep your respiratory system running smoothly, and pick up tricks from Jessica Iddings, Crystal Nyman, and Nicole Moultrie to help your children do the same. Dr. Hill will also be giving a special presentation on Copaiba essential oil to help answer some frequently asked questions. Tune in at the time that fits your schedule best on Wednesday, October 18th or Thursday, October 19th. You can sign up for the live event at the following link and it will also be recorded and archived on the doTERRA website for future viewing.
https://www.doterra.com/US/en/empowered-life-series-registration
Just wanted to share a couple of Links to some Great Articles recently posted on the Benefits of Essential Oils, Hope you Enjoy !
https://www.doterra.com/US/en/blog/product-spotlight-using-siberian-fir
https://www.doterra.com/US/en/blog/spotlight-doterra-on-guard-protecting-throat-drops
NEW BUSINESS HOTLINE – This is A Great New Addition to Help anyone interested in doing doTERRA as a Business to have their Questions answered regarding aspects of the Compensation Plan, Signing People up etc and is good for all members from the level of Manager to Premier. The number you can now call is 801-370-2140 so please make the most of this great New Service !